In-Market Video & OTT OLD
In-Market Video Targets Your Store's Inventory And Messaging To Local Shoppers & Even Your Competitor's Actual Website Visitors!
Let's face it, Video & OTT targeted 1-to-1 is the hottest, most efficient and engaging form of advertising! Now your Dealership can target all your competitor's actual website shoppers with video(s) across their PC, Tablet And Mobile Devices in Real-Time. DealerX's Video & OTT offering also retargets your shoppers with dynamically built video ads straight from the content they viewed on your website across Facebook, Instagram, Linkedin and 10's of thousands of other sites. Here are some examples of Video Ad Placements across YouTube, Amazon, Pluto & Roku.
Linear Video Ad:
The ad is presented before, in the middle of, or after the video content is consumed by the user, in very much the same way a TV commercial can play before, during or after the chosen program. One of the key characteristics of a linear video ad is that the user watches the ad in addition to the content as the ad takes over the full view of the video. Common linear video ad formats include pre-rolls, interactive takeovers, and short bumper vignettes that appear prior to the video content stream.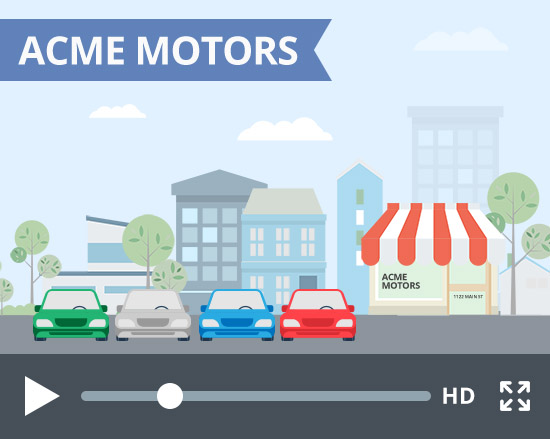 Non-linear Video Ad:
Display ads within a specified section of the video content so the users see the ad while viewing the content. "Non-linear" video ads as they are called can be delivered as text, graphical ads, or as video overlays. DealerX heavily leverages overlays which are shown directly over the content video itself. Overlay ads are also delivered over a linear ad experience as well, prompting the user to interact with the ad when the user mouses over the ad. We often use product placements ads directly within the video content itself when a consumer moves their mouse.
Companion Ads:
Commonly text, display ads, rich media, or skins that wrap around the video experience. These ads come in a number of sizes and shapes and typically run alongside or surrounding the video player. The primary purpose of the companion ad is to offer sustained visibility of the sponsor throughout the video experience. Companion ads may offer click-through interactivity and rich media experiences, such as expansion of the ad, for further engagement opportunities.