Conquest Pay Per Click®
Paid Search | Search Marketing | Transactional Pay Per Click
Our Transactionally focused Conquest Pay Per Click offers a practical but "negative" approach to Paid Search, negative keywords that is. This approach doesn't rely upon your dealership name as a keyword but rather focuses on what someone "in-market" for a new or pre-owned vehicle would search using Google & other Search Engines.
Optimizing your PPC Campaigns by eliminating word combinations which aren't relevant to the sales funnel. Ultimately driving visitors to Schema defined landing pages which contribute to the highest possible quality scores and your ads dominating impression share.
Our Transactionally focused Conquest Pay Per Click product leverages Google Adwords, Bing & Yahoo to "Match Intent" with keyword based Paid Search Ads.
Some of what you can expect from our Transactionally Focused Conquest Pay Per Click Product:
A Clean, Transactional Approach
Our approach to Paid Search (Also known as Pay Per Click) offers a clean, transactional and "true" way to match your dealership's offers to the car shoppers in your market's intent. Our strategy, unlike many of the current legacy providers does not rely on leveraging your dealership name as a keyword, but rather focuses on what someone "in-market" for a new or pre-owned car would search using Google, Bing or Yahoo.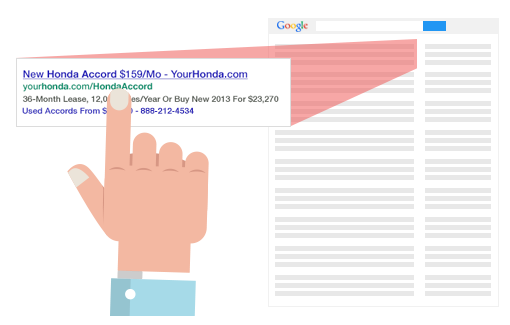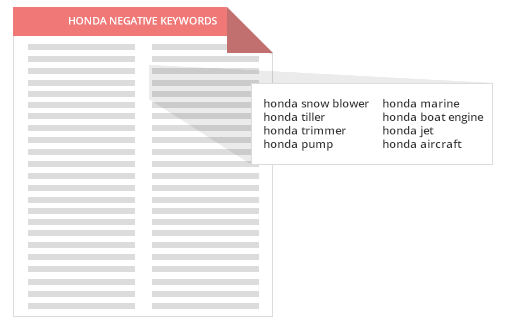 Positively Negative
Our paid search strategy is further refined by eliminating word combinations that are not relevant to the sales funnel. Continually curating what is known as "Negative keywords". Negative Key Words or phrases are those that you would not want your dealership to be found for when people are using a search engine. (EXAMPLE: Honda Generator)
Our Ads Target Proper Content
We don't stop there. Our Paid Search initiatives drive traffic to the appropriate landing or target pages that reflect the content of the ad your shoppers see, not a generic one-size fits all page like the "home page".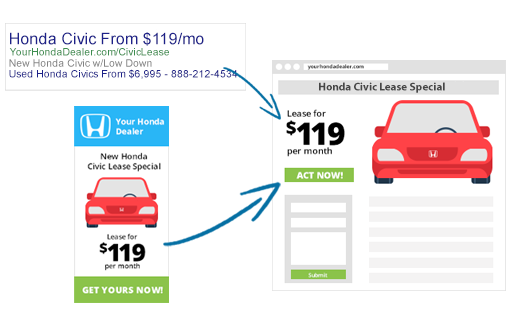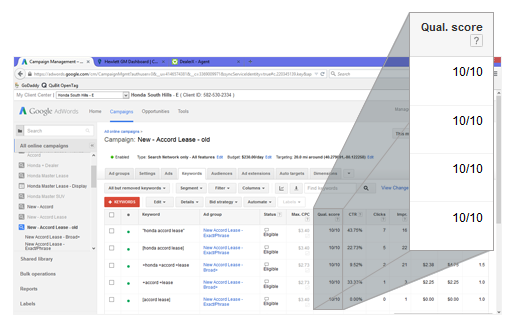 Highest Possible Quality Scores
The constant refining of our Paid Search strategies as well as the the never ending curation and optimization of your Dealership's campaigns enables our Conquest Pay Per Click product to generate the highest possible Quality Scores driving premium ad placement coupled with the dominant share of relevant searches in your market.
Search Retargeting
Search retargeting maximizes the potential of your website's own visitors. We segment all online visitors in to "buckets" of what they viewed while on your website. Continually serving relevant text based search ads to each shopper along side Google search results even when researching your competitors offerings! This keeps your potential buyers focused on what your selling even when they go back to do more research on Google. For example; Shoppers who had visited your website's New Car Specials page are retargeted with new car sales offers while using Google; those shoppers who had expressed interest in service offers when they were on your website will see your service related offers while using Google to search.
Bid management
Our near-real-time management of bids and budgets, updates your dealership's campaigns every 30 minutes.
---
Why Does Bid Management Matter To Your Dealership?
Campaign revisions based on near-real-time data helps you maximize as well as reduce the cost of each click and more importantly the cost of conversion. Continual optimization against your dealership's fixed PPC budget ensures that every dollar is being spent accurately and efficiently.
---
Mobile is Not treated the same as PCs.
We also treat Mobile advertising and optimization separately from other devices. Avoiding the "one size fits all" approach that most of the legacy providers currently employ.
Should You Buy Your Dealership's Name?
Legacy vendors buy your dealership names to cloud results with artificially high CTRs and lower CPMs. Conquest Pay Per Click lets the client decide whether they wish to buy their name as a keyword, and those campaigns are separated in reporting so their results do not skew the results of other campaigns.
Change log
See how your account is being continually optimized with the record of changes. Does your existing vendor simply turn campaigns on or off? With Conquest Pay Per Click, your campaigns are continually being monitored and optimized, as evidenced in an extensive change log: bid changes, targeting changes, keyword refinement, negative keywords, ad text changes, and much more.
Used/Certified Cars Strategy
When marketing Pre-owned Vehicles we leverage a 3-prong strategy.
In-Brand Repetitive Models "IBRM"
Dynamic Off-Brand VDP
"Cars For Sale In"
---
In-Brand Repetitive used/certified vehicles are those that are consistently found in your inventory. For example, A Toyota dealer often carries the bulk of Used & Certified Toyotas. Our "IBRM" strategy runs ads that are continually updated to reflect the year ranges, count and price or payment range of the cars you most commonly stock